CheMS'08: Communicating Models & Data
Scope and Aims
The Chesapeake Community Modeling Program (CCMP) seeks to improve modeling tools and related resources specific to the Chesapeake Bay, its watershed, and connected environmental systems by fostering collaborative open source research. Toward this end the CCMP is convening a modeling symposium as a venue to identify and showcase existing modeling efforts as well as promote information exchange and open modeling.
The symposium is intended to facilitate the development of an inventory of models and data sets, and stimulate collaborative research on data processing and modeling. The resulting inventory of modeling tools and data will be made available through the CCMP web pages, in attempt to stimulate cross-pollination across modeling teams and paradigms and encourage future community modeling efforts. It is our hope that this will lead to the development of more comprehensive and integrated modeling tools for the Bay and its watershed, as well as for other watersheds around the country.
Structure and Organization
It is hoped that CheMS itself will only be a single component of an on-going process of community collaboration. We imagine the process to look as follows: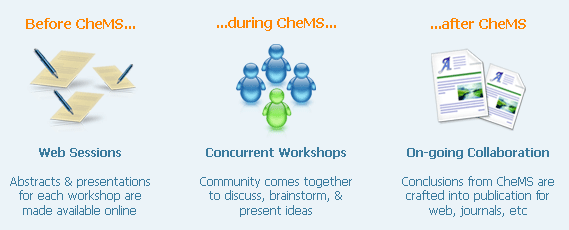 To achieve these goals, the symposium will be built around three complementary tracks of plenary sessions, web-based sessions and theme workshops. Our aim is to minimize presentation time and instead concentrate on active discussions.
Plenary sessions will be short invited talks presenting major programs related to the Chesapeake Bay and/or watershed. These will present the needs and achievements of the modeling and monitoring communities and will describe existing and possible collaborations.
Web sessions will be designed to allow all participants to present their modeling tools and data sets and identify possible avenues of communication. The models and data will be presented on the web in a structured way to allow linkages and queries. We expect this to help identify the gaps in our modeling efforts and understand how different models can interact to improve our understanding of the overall Bay dynamics. The model and data presentations will be available over the web prior to the symposium, allowing participants to learn more about other efforts of interest, identify potential collaborators and come to the symposium prepared for more in-depth focused face-to-face discussions on topics of interest.
Theme Workshops are designed to inspire and foster discussions on most important topics within the field. Workshop themes will be proposed and organized by one or more scientists or teams. Workshop organizers are expected to produce a summary paper on the special topic of the workshop exploring opportunities, challenges, solving techniques and/or methods, validation procedures and applications.
Timeline
Proposals & Abstracts
For a full timeline of events, please see the Timeline page. A general overview is as follows. Note: all deadlines should be thought of as target dates -- the only real due date is the date Symposium itself (May 12). Ideally, progress would ensue as follows:
December 2007
Lead Conveners are accepted as Session Organizers
Session organizers invite others to participate in their workshop
Interested parties sign up as authors on WCMT
January 2008
Authors submit abstracts
Abstracts are reviewed by workshop organizers
February & March, 2008
Notification sent to authors
Full papers are written and submitted to web sessions
Papers are reviewed by reviewers & session organizer
April & May
Notification of acceptance sent out by April 1.
Web sessions posted online after April 1, 2008.
After the Workshop
Continue to finalize the position papers on the wiki
Publish the papers in a special journal edition or an edited book
Registration and Accomodation
TBD: Early Conference Registration
TBD: Deadline for lodging reservations at special rate
Sponsors
Registration
For information about registering for the Chesapeake Modeling Symposium, please visit our registration page.
Location & Lodging
The CheMS'08 Symposium will take place at The Doubletree Hotel in Annapolis, MD. For more information about reservations and rate discounts, please visit our Location & Lodging page.